Jason Mraz is bringing good vibes to Malaysia this May
STAR2.COM
Get ready for some musical good vibes in May, when Grammy-winning artiste Jason Mraz brings his Good Vibes Tour to Malaysia.
Mraz will be performing on May 13, 8.30pm at Axiata Arena, Bukit Jalil, Kuala Lumpur.
This will be Mraz's third show in Malaysia. He first performed here in 2009, and came back again for his Tour Is A Four Letter Word tour in 2012.
READ MORE
FanFan ROAD TO HAPPINESS WORLD TOUR LIVE IN MALAYSIA 范玮琪在幸福的路上世界巡迴演唱会
华语乐坛"温暖天后"范玮琪终于来马开唱。
《可不可以不勇敢》、《一个像夏天一个像秋天》这两首关于友情的歌曲,诉说出朋友双方相互安慰、支持、相信对方…《最初的梦想》和《启程》鼓励年轻人积极追寻梦想,也是毕业的必选曲目;《黑白配》是范范对黑人的表白,呈现出了范范与黑人真实的情感状态;还有结婚前夕推出的《最重要的决定》、坚定支持另一半无畏困难的《最亲爱的你》,都唱出了范范内心的柔软与坚强,直达人心。
2019 范玮琪在幸福的路上世界巡迴演唱会
演出日期: 2019 年 7 月 7 日(星期日)
演出地点: KLCC PLENARY HALL
演出时间:8pm
PURCHASE TICKET
MORE INFO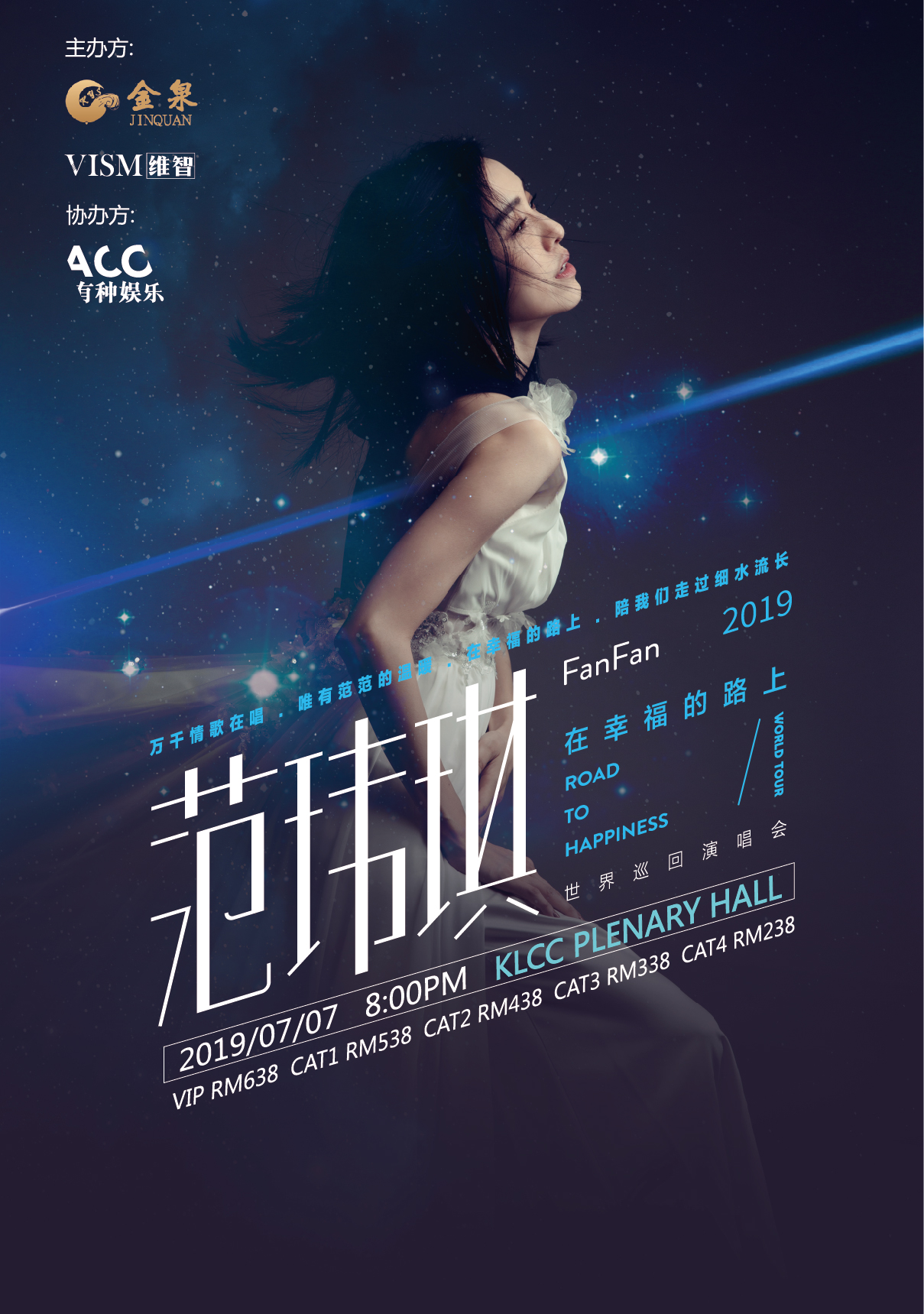 ABOUT US
ACO Media is a comprehensive entertainment company which provides services ranging from interactive exhibition, concert management, artist training programme to film production and distribution. Composed of a team of event management professionals with over 20 years of experience in show and production, we specialize in these entertainment fields with a strong profile which spreads across the Europe, America, Asia and Southeast Asia region. With over 100 show projects successfully delivered by the team, ACO Media remains dynamic and set to achieve greater heights in the upcoming years.
ACO有种娱乐是一所全方位娱乐公司,业务涵盖特展、演唱会制作、艺人培养、电影制作与发行。
由拥有超过20年演出和制作经验的专业团队领军。专场演唱会制作含括欧美、亚洲、东南亚市场。
除此之外,计划中的艺人孵化系统更会以新形式、新体系配合这个全新的科技年代,以将公司旗下体系完整的联系起来成为一个生态体系。
CONTACT US
联系我们
Phone :
Email :
Address :
VO3-03-02, Designer Office, Lingkaran SV Sunway  Velocity, 55100 Kuala Lumpur